I was looking at the
American Girl Archives
and saw there was an uncanny resemblance of
Nicki and Saige.
I also saw a
similar post
by
Doll Diaries
. Also, you can see Nicki's contest
*here.*
Okay, let's get started!
Similarities
Similar eye color (Pic Cred Doll Diaries)
Nicki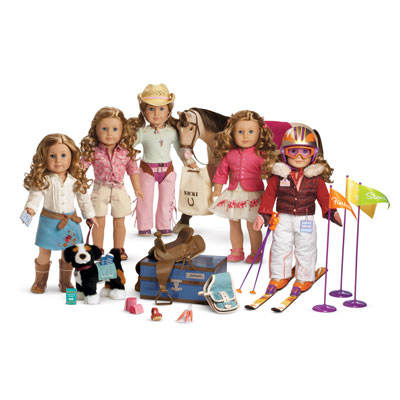 Saige
Nicki's Story
First Book (Nicki):
Nicki Fleming is a natural with animals. She lives with her family on a ranch in Colorado, where she loves to ride her horse, downhill ski, and go shopping with her best friend, Becca. When her mother announces that she's expecting twins, life for Nicki starts to change—and fast. Soon, Sprocket the pup arrives to be trained as a service dog and Nicki realizes that she may have bitten off more than she can chew! But she's an optimist and likes the idea of doing what she can to help others, even if it means giving up some of the things she loves most.
Second Book (Thanks To Nicki):
Nicki Fleming's story continues, with a second book about the Girl of the Year 2007. Ten-year-old Nicki has had a busy summer on her Colorado ranch. When she wasn't training Sprocket to become a service dog, she was helping her mother, who is expecting twins soon.
Yet Nicki is dreading the fall, when Sprocket will have to leave for more training and will eventually be placed with a person who has special needs. The beginning of the school year also means she's stuck in the middle—caught between her two best friends, Kris and Becca, who can't seem to get along. Can Nicki find a way to let Sprocket go and keep both of her good friends close?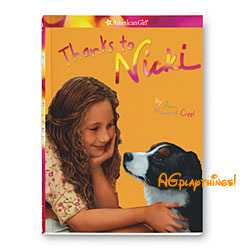 Saige's Story
First Book (Saige):
Saige Copeland loves spending time on her grandma's ranch, riding horses and painting. Her school made the tough choice to cut art classes, which means she's lost her favorite subject. So when her grandma decides to organize a "save the arts" fundraiser and parade to benefit the school, Saige jumps on board. She begins training her grandma's beautiful horse, Picasso, for his appearance in the parade. Then her grandma is injured in an accident, and she wonders what she can do to help. Can she ride Picasso in the parade and make her grandma proud? Can Saige still raise money to protect the arts at school?
Second Book (Saige Paints The Sky):
Life is changing for Saige. Her grandma is still recovering from the accident, and she misses the time they spent together. She takes comfort in riding Georgia, her grandma's youngest horse. She knows her grandma needs cheering up, so Saige comes up with a plan to restore their special art afternoons. Inspired by her grandma, she organizes a "Day of Beige" at her school to show how boring the world would be without creativity and color. Things are finally starting to get better, and then grandma tells her of plans to sell Georgia. Can Saige find a way to keep the horse she loves—and help save the arts at her school?
Trivia Time!!
N

icki is so far the only Girl Of The Year

to not come with any underwear

Chrissa, McKenna, Saige and Isabelle are the only dolls that have movies

Saige and Isabelle are the only GOTY dolls that have mini dolls (currently)
I love Saige and Nicki! Who do you like better?